Commission a Painting from Lisa? It's easy. And much less expensive than you'd think. Plus, you get to work directly with Lisa in order to get a singular look, that you will treasure forever! You'll Love It!

My painting is like jazz fusion. Not so much for my brushstroke work but because of the complex layers of seemingly unrelated stuff that somehow tie together. My brushstrokes are speedy looking but I think my detail is described more in the subject matter rather than by way of tight brushstrokes, sort of reflecting the fast pace of jazz and its many layers.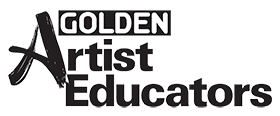 I draw most my inspiration from early American contemporary artists. I liked the novelty of the pop culture and the way artists of their time expanded their basic ideas, one on top of the other...expanding what-ifs in art. I also like the complex, colorful and wonderfully lyrical abstracts of Wassily Kandinsky. Kandinsky set out and perfected painting musically so that the viewer could actually hear his paintings.

Lisa Bebi has completed an Intensive Training carriculum to become one of 200 persons world-wide to be Golden Artist Educators certified. Enroll in one of Lisa's fun and informative art classes to benefit from her advanced training.